Welcome
Kingwood Dentist - Mary E. Marbach, DDS - Family & Cosmetic Dentistry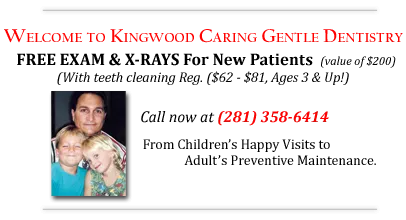 Welcome to Kingwood Caring Gentle Dentistry
Kingwood Caring Gentle Dentistry. Your local family, cosmetic, and restorative dentist office in Kingwood . Also providing effective patient care to residents from Atascocita, Humble, Huffman, New Caney, Summerwood, and other Houston TX communities. At our practice, we believe that a doctor and patient team is vital for assessing and treating your dental needs. Our dental team spends a great deal of time in listening and understanding your concerns, responding with the best dental treatment options available for you in Kingwood. With the help of our professional staff, they will also follow up with you to make sure that your general oral pain is relieved, dental problems are resolved, and your overall health improves.
Dental Services We Offer in Kingwood, TX
Dr. Mary E. Marbach provides a wide array of general, restorative, and cosmetic dental services.
Some of these services include:
For more information on these and other dental treatments and procedures offered by Kingwood Caring Gentle Dentistry, please visit our dental services page. We want our dental patients to be informed about existing dental problems and treatments. Why? Because informed patients make better decisions about their health and well-being. That is why Kingwood Caring Gentle Dentistry's site includes an extensive section on education. The patient education library . This library covers the full array of topics associated with dentistry and dental diagnoses and treatments. You can browse all treatments and services within the sidebar of the patient education page. We encourage you to look through these pages whenever you have an interest or concern about your dental needs and care.
Achieve Your Best Smile
At our Kingwood dental practice, we know that convenience in the Kingwood area and neighboring towns is important to your decision in choosing a local dentist. On our dental office page and our page for new patients , you will find important information about Kingwood Caring Gentle Dentistry's dental office. This includes our Kingwood, Texas address, a local map with directions provided by Google, our practice hours, dental insurance policies, and more on appointment scheduling. Please feel free to contact us by form with any questions you may have or to request an appointment . Or for more immediate assistance, Kingwood Caring Gentle Dentistry a call at (281) 358-6414 . We hope you'll find our practice offers the accessibility and personal commitment you look for from a physician.