Mary E. Bajork - Marbach DDS, FAHD, FAGD
Family Dentist in Kingwood, TX
Kingwood Caring Gentle Dentistry
Our Office Number: 281-358-6414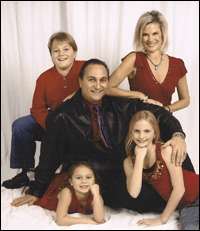 Dr. Marbach
Dr. Mary E. Marbach was born in Dallas, Texas and was raised in Wisconsin. She received her bachelor of science degree in pre-professional studies at the
University of Notre Dame in South Bend, Indiana
. She received her DDS degree with honors from the
University of Texas Health Science Center San Antonio
in 1989. She then completed a one year general practice residency at Bexar County Hospital in San Antonio in 1990 where she received her fellowship with the American Association of Hospital Dentists.

She has been practicing general dentistry in Kingwood since 1991 with a special emphasis on family, implant and cosmetic dentistry . Early in her career, she was awarded three "Best in Texas" before and after contests for porcelain veneers. In 1998, she completed the Rosenthal Institute Aesthetic Advantage Continuum at the University of New York Dental School in cosmetic veneers and creating "smile lifts". She is a current member of the Northeast Houston Implant Seattle Study Club and has been since its inception in 1997.

She also is a member of the American Dental Association and stays on the cutting edge of technology by participating in seminars and conferences. Recently, she received her fellowship within the Academy of General Dentistry where the convocation ceremony was held on the USS Midway in San Diego, California. Dr. Marbach enjoys spending time with her family, traveling and exploring Mexico. She is a talented pianist, golfer and an avid reader. Dr. Marbach's practice philosophy is based upon extreme excellence. It is Kingwood Caring Gentle Dentistry's commitment to achieve beautiful, healthy and long-lasting smiles in a comfortable and safe setting.
---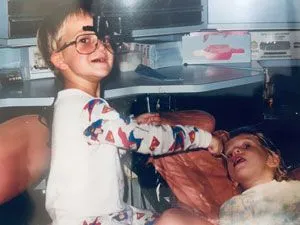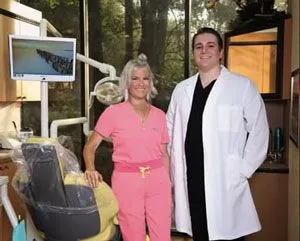 Dr. Mark Anthony Marbach
Dr. Mark Anthony Marbach was born and raised in Kingwood, Texas. At 3 years old, he began his training in concert piano and developed a love for music. The manual dexterity he developed through his musical studies translated to wood working where he began restoring furniture, houses, and other projects with his father. He began to compete in statewide wood working competitions where he won third place in 2006 for his craftsmanship. His hobbies sparked a passion for creation and restorations. He has spent his entire life immersed in the dental field, as his parents were both involved in the dental profession. At a young age, he was able to witness his mother restore and create smiles, and thus sparked his own interest in the dental profession.
He received his Bachelor of Science degree from Saint Mary's University in San Antonio, Texas. During his undergraduate studies he spent his time as a tutor and a teacher's assistant for biology and organic chemistry. His interest in the sciences lead him to research the bonding of composites to zirconia crowns. He was invited to present his findings to the American Equilibration Society annual meeting in Chicago in 2011, as well as to the students of UT Health Science Center San Antonio dental school. His early involvement at UTHSCSA dental school led him to begin performing certain dental procedures on manikins prior to his acceptance into dental school.
He received his Doctorate in Dental Surgery from the University of Texas Health Science Center in San Antonio. During his professional studies he continued his research under Dr. Nasser Barghi DDS, MA and was invited once more to present his findings to the AES and to UT Health SA. His findings became the university's protocol for bonding zirconia crowns. He developed a passion for prosthodontics and began tutoring his classmates and underclassman in dental prosthetics. After graduation, he obtained certificates in advanced implant prosthetic mastery through the Advanced Dental Implant Research and Education Center. He continues to practice at the family dental practice, where his mission is to provide high quality, comprehensive dentistry "By the Family, For the Family".
---
Darlene - Office coordinator
Hi! My name is Darlene. I am the office coordinator that will be greeting you at your appointments and setting up your next appointments. I enjoy my job and love seeing all your smiles! I attended Northwestern State University in Natchitoches, LA. I have been in the dental field for over 20 years.I started by working as a dental assistant and then as a pediatric dental assistant.
Throughout my dental experience, I have always strived to make our patients feel comfortable and well informed. I have been married for 15 years, and have two daughters, ages 9 and 2. 1 enjoy spending time with my family, softball, cooking, shopping and am an avid reader.