By Kingwood Caring Gentle Dentistry
February 03, 2016
Everyone wants to have a beautiful, full smile. Find out how implants can do just that.
If you are dealing with tooth loss it probably goes without saying that you want a tooth replacement that is going to last and truly look as close to your natural teeth as possible. If so, then you'll want to talk to our Kingwood dentists Dr. Mary Marbach and Dr. Brian Porter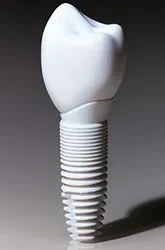 about our dental implants in Kingwood . It's incredible how many benefits these dental restorations can offer:
They are durable and built for a lifetime
The implant itself is made of titanium and functions just like tooth roots. Also, because the implant fuses with part of the jawbone, it is the strongest foundation from which to hold a dental restoration like a dental crown. With the proper care, an implant can last you the rest of your life.
Sure, implants cost more upfront, but you'll enjoy a complete smile each and every day. On the other hand, dental bridges and dentures are only designed to last for five to 10 years and will need to be replaced (and also periodically adjusted).
They don't require support from natural teeth
When you get a dental bridge, your general dentist in Kingwood will need to shave down a portion of your neighboring healthy teeth in order to place dental crowns over them to support your bridge. This can put unnecessary pressure on healthy teeth (not to mention you'll lose some of the healthy natural tooth to a dental crown), but you won't have to worry about that with implants. Implant dentistry doesn't require natural teeth for support (just a healthy jawbone!).
They promote a healthy jawbone
One of the complications of tooth loss is shifting teeth and deterioration of the jawbone. Since the roots of the missing tooth are no longer stimulating the jawbone the bone will start to lose density and recede. Before this happens it's time to consider getting implants. Implants are the only dental restoration that actually stimulates the jawbone to produce new bone cells so it stays healthy. With other tooth restorations , your jawbone will continue to deteriorate.
You experience renewed confidence
Nothing feels better than having a full smile again. Not only will this give a major boost to your self-esteem but you can also enjoy the fact that your implant is secure and not going anywhere. Those with dentures or removable restorations have to worry about teeth moving around while talking or eating. But not with implants! Enjoy eating all your favorite foods or talking with friends in public. Your implants are staying put!
If you want to find out if dental implants or any of our other family and cosmetic dental services could complete your smile then it's time to schedule a consultation with your cosmetic dentist practice in Kingwood by filling out our contact form or giving us a call at (218) 358-6414 . Kingwood Caring Gentle Dentistry is here to give you a beautiful smile that lasts a lifetime.