By Kingwood Caring Gentle Dentistry
July 23, 2015
Are Veneers Right For Me?
Porcelain veneers can enhance your smile on several different levels.
Cosmetic dentistry means that people don't have to hide the flaws in their teeth, instead smiling proudly with beautiful and natural-looking restorations. Veneers in Kingwood are often responsible for the most dramatic transformations. These wafer-thin, tooth-shaped sections of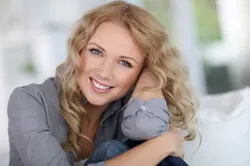 porcelain fit on natural teeth to correct a variety of common flaws. If you're wondering "Are veneers right for me?", look no further for the answer. Dr. Mary E. Marbach and Dr. Brian Porter of Kingwood Caring Gentle Dentistry in Kingwood, Texas have listed a few of the dental situations that veneers can resolve.
Whitening and Brightening
Dental whitening is a well-known
cosmetic dental treatment
, but certain patients have teeth that will not show any marked improvement from bleaching. Many adults who were prescribed tetracycline antibiotics during childhood are now dealing with discolored teeth as a side effect. This discoloration has shown to be resistant to
teeth whitening
. Other people whose gums have receded may find that the uppermost portion of their tooth, the part that was previously covered by the gums, stays the same color after whitening. Tooth-colored dental treatments, such as
resin fillings
or
dental rowns
, are made to match with natural teeth, they will not change color upon whitening. These are all common reasons that your Kingwood dentists suggest dental veneers to patients. The thin layer of porcelain updates the color and luminance of teeth as soon as it's placed.
Shaping and L

engthing
Teeth can wear down over years of use, giving them the appearance of being too short. Some teeth grow in to be different sizes, shapes or lengths than their neighboring teeth. With porcelain veneers , your teeth will be proportionate and evenly shaped; your Kingwood dentists make sure each veneer has an optimal shape and size.
Gapping and Overlapping
Braces
aren't the only way to straighten your smile! Veneers work best at correcting small gaps or overlaps in the teeth. Your Kingwood dentists may suggest braces to deal with major crowding, gaps or other alignment problems.
If you're imagining yourself with a more radiant smile you'd be proud to show off, call
Kingwood Caring Gentle Dentistry
to make that vision a reality with veneers!